CPSE 2019 10. 28-31 Shenzhen China
The IP network is becoming more and more popular for public transportations. System integrators are now installing on-board multimedia equipment for passenger entertainment, security surveillance, and monitoring of vehicle status and location.

Challenges of Wireless Transportation
To keep a constant flow of data, the reliability of data transmission for buses and other public transportations is becoming a key design consideration. Since the mobility of these vehicles makes having a wired system impossible, wireless data transmission systems become a critical aspect in network designing. WLAN radio devices, aside from providing a steady network infrastructure, must now weather harsher environments than ever before, specifically, designs must adapt to the threat posed by intense and constant vibration from the environment in which the device is deployed.

Benefit of Wisnetworks Solution
Seamless handoff for roaming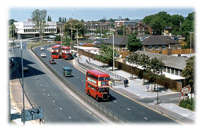 All the Wisnetworks outdoor radios feature zero sense roaming handoff technology, which can achieve handoff times of less than 50 milliseconds across roadside base stations. Such rapid handoff times give virtually seamless connectivity and make the voice and video stream more smoothly thus improving the experience for monitoring and management.

High power/sensitivity client radio
All Wisnetworks outdoor radio featuring dual power amplifier design would help to output 27dBm power both at high and low speed. Besides that, the receive sensitivity is also specially optimized. In this way, with WIS-Q or WIS-S series as client device or station, it would break through the distance of more than 1km than traditional wireless card or other terminals. The WIS-S series has two RP-SMA connectors which are easy to connect to dipole antennas or vehicle-mounted antennas outside the moving vehicle to get better signals.

Wireless Backhaul with coverage
In order to make a true wireless solution, the Wisnetworks radio can both provide 2.4GHz coverage for connecting to stations and 5GHz backhaul for linked up all base stations. Wisnetworks provide with various coverage solution with WIS-A series smart base station, WIS-L series sector and panel base station and WIS-S series detachable radio working with Wisnetworks antennas. The WIS-A series smart base station can operate in concurrent dual band thus saving your cost for installations, deployment and backhaul radios.

Rugged and Robust radio
With the tough industrial IP67 waterproof die-cast aluminum design, the Wisnetworks radios can work in various outdoor conditions, in sunshine or rainfall, wind and snow. Besides that with the robust lightning protection hardware integrated and grounding terminal outside the enclosure, you would no longer worry about the lightning and ESD damage to the device, thus ensuring you a tough and stable network for monitoring and operating.

Massive unit management
Wisnetworks will provide hardware and software access point controller to manage all the base station and client units in your operating room. It supports managing up to 500 units for upgrading firmware, import configuration, user bandwidth limit, wireless roaming, etc. The central management enables easier network problem identification and troubleshooting, performs real-time updates of any system changes like alarms, events, and performance counters, helps greatly reduce the cost of the device monitoring and maintaince.