MWC19
The mining operation always needs effective communication, efficiency and safety. Wireless technology enables continuous online planning and real-time monitoring of the geological and production activities throughout the operation.

Mining has become a communication technology-dependent industry. When a data network shuts down or becomes unavailable, safety and productivity are compromised. The entire operation must be suspended. Only wireless technology enables fast, secure and reliable wireless communication for all the network access and safety systems.

Challenge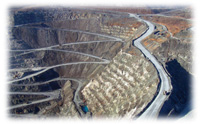 Wireless mining communication networks transport data, voice, and video, supporting applications that are essential to efficient and safe mine operations. The network is typically comprised of both fixed and mobile nodes such as control room and moving trucks. Wireless communications products operating in this setting must be ruggedized and be capable of handling extreme temperatures and weather conditions, shock and vibration, as well as dirt and dust. Often, the active mining site is transient so the network must be easy to move and setup in different locations around the mine every few months. To provide maximum benefit, wireless mining communication networks must offer broadband speeds and form a flexible and reliable foundation to securely support multiple applications on one cost-effective physical infrastructure.


Benefits of Wisnetworks Solutions
Various coverage solutions
Wisnetworks provide with various coverage solution with WIS-A series smart base station, WIS-L series sector and panel base station and WIS-S series detachable radio working with Wisnetworks antennas. Those base stations combination can provide you zero dead zone coverage with high speed wireless for data, voice and video communications.

Mobile field communications
>Wisnetworks Zero Sense Roaming Technology enables communications and access to data between workers/vehicles in the mine fields moving among different coverage area of the base station, staff located in operations control and processing room, improving operational efficiencies and productivity.

Real-time video
Video cameras are the most practical and efficient way to visually monitor overall activity in large pit operations, particularly around the use of explosives. Working with IP cameras or CCTV camera+DVR, Wisnetworks radio enables video to be streamed to the control room in real time with very low latency.

Robust and rugged design
With the tough industrial IP67 waterproof die-cast aluminum design, the Wisnetworks radios can work in various outdoor conditions, in sunshine or rainfall, wind and snow. Besides that with the robust lightning protection hardware integrated and grounding terminal outside the enclosure, you would no longer worry about the lightning and ESD damage to the device, thus ensuring you a tough and safe network for communications.

Tunnel Wireless
Featuring narrow beamwidth with high gain directional antennas, Wisnetworks radios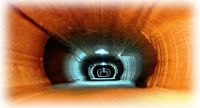 can cover a 1km straight tunnel with a single wireless base station. And if there is NLOS condition in the tunnel with horizontal or vertical skewing, the AP repeater function of the base station can connect up to 6 radios together with wireless, in this way, simply put more radios in the tunnel and the wireless system would solve the coverage and roaming problems.